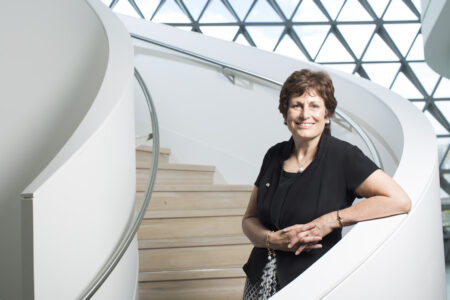 Dr Leanna Read gave an inspiring address to the July meeting of the ACDS Executive in Adelaide.
Read below highlights of her thought provoking insights into university-industry research collaboration, options for PhD graduates and more, in this summary of her presentation.
Dr Leanna Read, FAICD, FTSE
Former Chief Scientist for South Australia, Chair and Managing Director, CRC for Cell Therapy Manufacturing, Chair, Carina Biotech Pty Ltd and TekCyte Pty Ltd.Dr Leanna Read is a biotechnologist, who served as South Australia's fourth Chief Scientist from 2014 to 2018. She has a passion for "putting science into practice" through building and enhancing connections between industry and research providers, commercialisation of research, and supporting innovation. She was a member of the former South Australia's Economic Development Board and has supported early-stage life-sciences businesses as an investor through her role with BioAngels (now Southern Angels). In addition to the affiliations noted above, she previously led the CRC for Tissue Growth and Repair, which is regarded as one of the more successful commercially focussed CRCs.In addition to her leadership roles within Industry, Dr Read has co-authored over 90 papers (SCOPUS) and has a H-Index of 30, reflecting her standing as a research provider.
Key points of presentation
1. Australian Universities are very effective at bottom-up research. However, we are much less effective in providing the leadership required to bring people along on the journey of commercialising research and assembling the various elements that make a successful start-up company. Large-scale, problem-driven research is particularly challenging for our Universities.
Bottom-up research is important, but we should consider increasing the focus on identifying and solving "big challenges". This requires three key elements:
Assembling the best researchers and end-users to address the chosen challenge (even if they do not currently work in the field).
Funding sources that embed scale, longevity and flexibility (e.g. CRCs).
Providing the necessary leadership (the key challenge). An important aspect of this is to identify individuals who could be future leaders if given the right support and development opportunities.
Some examples – and based on examples such as these –
What can the ACDS do to identify the "big challenges" that our respective universities can drive? How can we build/encourage/ nurture the necessary leadership?
Carina Biotech/CRC for Cell Therapy Manufacturing. A key discovery by this group was the development of CAR-T cells that target proteins present on the surface of a broad range of cancer cell types and not normal cells. This led to the development of an integrated CAR T therapy concept involving both new CAR-T cells and T-cell targeting technologies for the treatment of solid cancers which, to date, have been resistant to CAR-T therapy. The outcome was a successful spin-off company, and Leanna made the prediction that cancer might even be a treatable condition within the next 30 years.
Space Sat CRC. This now involves around 100 participants/collaborators in Australia and internationally. It grew out of a concerted effort to build a space capability in South Australia, including a roadmap of industry/research capabilities; creation of a National Space Agency; a South Australian Space Council; and a regular Space Forum (currently with about 700 registered delegates); etc. There is now a vibrant "Space Technology" ecosystem in South Australia with many start-up companies, because of the availability of the necessary leadership to drive this initiative. This ecosystem represents a tightly integrated suite of research-provider/industry partnerships.
The Hydrogen Economy. This is a future opportunity for Australia. A roadmap for the development of the hydrogen economy in South Australia has already been drafted, as part of an assessment of the larger National Energy Landscape.
2. The balance of areas of focussed scientific research in the public sector does not reflect the current business focus in Australia (or, more importantly, the business focus of the future).
For example:
Medical sciences dominate in public sector research: NHMRC funding ($820M in 2017/18) is actually bigger than that of the ARC ($760M).
However, the Business Expenditure on R&D (BERD) statistics for Australia indicate that Information and Computing Sciences ($6,634M or 40% of total BERD) and Engineering ($5,538M or 33% of total BERD) accounted for 73% of total BERD in 2015-16.
Can we grow major medical technology science companies in Australia to partially redress this imbalance?
We do have several examples:
CSL (revenue $9B);
Cochlear ($1.4B);
Resmed ($2.4B);
Pathology Services – Sonic Healthcare ($5.8B); Healthscope ($2.4B); Helius ($1.7B);
Hospital Groups (Ramsay Healthcare);
Generics (Blackmores, Mayne Pharma)
Cliuvel Pharma (a first-in-class drug for erythropoietic protoporphyria);
Nanosonics (disinfection device);
Promedicus (Imaging IT).
The funding model for medical technology companies is an issue in Australia, since they typically require large tranches of VC funding. Issues with sourcing such support in Australia means that we often relocate overseas or sell companies rather than build and nurture them onshore.
A question/challenge for the ACDS – should the Deans be trying to adjust the balance of university research effort to embrace (for example): Space; Environment; Energy (eg hydrogen); Agriculture — areas that can be driven by meeting the challenges identified in (1) above?
3. Career options for PhD graduates:
We are training too many science PhDs for the available academic positions, and so the majority will need to find positions outside of academia and in Industry.
However, we do not have the industry base of countries such as Germany.
What can we, as the ACDS, do to help effect the required change (particularly in light of (2) above)?
In addition, we generally do not teach or even encourage the development of skills in Entrepreneurship within our science cohorts. This is an area in which we could do better as a Nation, to ensure that (for example) more graduates will be positioned to launch their own companies. In particular, we (the ACDS) need to generate the type of mentality that would lead our students to consider such options.
Unfortunately, the business schools and science schools in Australian universities are not closely aligned. For example, it is often difficult for science-degree students to include business subjects as a formal part of their degrees (and vice versa). Although this situation is slowly improving, we (the ACDS) need to think of ways to facilitate such cross-fertilisation of discipline skills.
A related point is that science PhD programs develop high-level problem-solving skills. Students need to understand their complete value-proposition; as high-level problem-solvers we should be encouraging them look at opportunities outside of their immediate discipline areas for career options.
4. Science skills and the training of science teachers
There appears to be a disconnect between university schools with responsibilities for teacher training and science.
Science is moving rapidly, and hence the integration of science/education faculties and cross-fertilisation of ideas is crucial.
Can we, as Deans, identify ways to help nurture collaboration in this vital nexus, to provide the best training for our science teachers?
5. Other thoughts
The disconnect between research and industry – how do we ensure that small companies can grow into larger ones? We don't want to remain as a country of commodities supply.
What can we do, as the ACDS, to help drive the conversion of our start-up companies into bigger enterprises?
Industry professors – building links between Industry and academic research by explicitly appointing high-achievers in industry to professorial roles in our Universities, and encourage movement back and forth between industry and universities.